Due to the current uncertainties, we must regretfully cancel the 2020 Festival. We look forward to welcoming presenters in May 2021, if their schedules permit.
Bob Eckstein is a New York Times best-selling author, an award-winning illustrator, New Yorker cartoonist and the world's leading snowman expert. He was nominated Gag
Cartoonist of the Year twice by the National Cartoonist Society. His work has appeared
worldwide and was a columnist for many publications like New York Newsday, TimeOutNew York and a regular contributor for The Village Voice, New York Times, New York Daily News, National Lampoon, SPY, Playboy, MAD, and many publications worldwide. He has spent the past years speaking publicly and writing OpEds against online shopping and raising awareness for independent bookstores.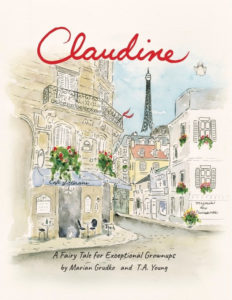 Marian Grudko is an author, composer, and storyteller who is noted for her musical stories. Her children's book, Lucinda Snowdrop, with narrated music, was published in 2018. She is also the author of Claudine: A Fairy Tale for Exceptional Grownups (and children over the age of 10), about a ladybug who wanted more than anything to live in Paris. Claudine was written in an unusual collaboration with author T.A. Young. You can visit Marian and T.A. Young on their Facebook page, A Key to Claudine.
Sarah Kozloff tried her hand at fiction writing after decades as an
academic, holding an endowed chair as a professor of film at Vassar College. The result is a 4-volume epic fantasy, The Nine Realms, which is being released on a rapid publication schedule in the winter of 2020—"4 Books, 4 Months, The Nine Realms"—from Tor. The books use everything Kozloff knows about literature, film, and narrative.
Matthew Spady has been an evangelist for the Audubon Park neighborhood for the last twenty years, researching, writing, and speaking to promote its rich history. A leader in the decade-long community effort that culminated in the Audubon Park Historic District, he contributed
to the Landmark Preservation Commission's designation report, and has been quoted in the New York Times, Manhattan Times, DnaInfo, Avenue Magazine, Brick Underground, and on history and arts news sites. Fordham University Press (Empire Editions) will be publishing his book, The Neighborhood Manhattan Forgot: Audubon Park and the Families Who Shaped It in the fall of 2020.
John Taliaferro is a graduate of Harvard College, a former senior 
editor at Newsweek, and the author of five previous books, including All the Great Prizes, winner of the Dillon Prize from the American Academy of Diplomacy. He lives in Texas and Montana.
Roger Hendricks Simon,  a founding member of the Yale Repertory Company, went on to direct and act for Joe Papp's New York Shakespeare Festival, London's Royal Court Theatre, Edinburgh Festival, Lincoln Center, Brooklyn Academy of Music, La Mama, Roundabout, Los Angeles Theater Center, PBS, BBC-TV, National Public Radio and many more. Elected to Notable Names in American Theater, Roger directed international premieres by Tennessee Williams, Sam Shepard, David Hare, Terrence McNally, Lanford Wilson, and William Saroyan. He has directed John Lithgow, John Travolta, James Earl Jones, and James Woods, to name but a few. Roger is the founding artistic director for The Simon Studio in New York City.
Sharon Washington has been a professional actor for over 30 years. She made her debut as playwright at City Theatre in Pittsburgh in 2016 with the world premiere of her solo
play Feeding The Dragon which subsequently played at Hartford Stage and made its Off-Broadway debut at Primary Stages in April 2018 where she was nominated for an Outer Critics Circle Award for Outstanding Solo Performance, a Lucille Lortel Award for Outstanding Solo Show and won an Audelco Award for Solo Performance. Sharon was the Primary Stages 2017-18 Tow Foundation Playwright-in-Residence and is a graduate of Dartmouth College and the Yale School of Drama.
Terrence McCauley is an award-winning writer who has written acclaimed mysteries, thrillers, and Western novels. A resident of Wassaic, NY, he is currently working on his next novel.
Kellye Garrett's Hollywood Homicide, about a semi-famous,
mega-broke black actress, won the Anthony, Agatha, and Lefty for best first novel. It's also one of BookBub's "Top 100 Crime Novels of All Time." The second, Hollywood Ending, was featured on the TODAY show's Best Summer Reads of 2019 and was nominated for both Anthony and Lefty awards. She serves on Sisters in Crime's national board.
Lyndsay Faye is the internationally bestselling author of The 
Paragon Hotel, Jane Steele, the Timothy Wilde trilogy, Dust and Shadow, and her short story collection The Whole Art of Detection. She has received two Edgar Award nominations for Best Novel and was the winner of the American Library Association's Reader's List for Best Historical. Her work has been translated into sixteen languages, she appears in numerous anthologies, and she contributes to the Eisner-Award nominated comic Watson and Holmes. Faye is the proud coordinator of Mystery Writers of America's National Mentor Program.
Amy Collins is the President of New Shelves Books and a trusted expert, speaker and recommended sales consultant for some of the largest book and library retailers and whole sellers in the publishing industry. She helps authors get their books into the stores and onto the shelves of bookstores and libraries.